This month I've started to mix up my workouts a little. I get so easily bored that I don't want to lose focus by just doing the same things over and over with the ChaLean Extreme dvds and the lunchtime C25K runs.
I was introduced to the ZWOW workouts on You Tube by one of my Instagram friends. She had amazing results just from doing these short workouts at home. Now she's incorporating clean eating (which is something I definitely need to look in to) and she looks phenomenal. I've tried ZWOW 1 and 2. ZWOW 1 was tough but doable. ZWOW 2 was just not possible for me. I have to remember that my knees aren't the best so I need to take it easy or modify some of the workouts I try to do. The other You Tube station I'm loving for fitness right now is by Fitness Blender.
They have a TON of workout videos! Their videos aren't anything fancy by any means but I love the fact that they always show a demonstration with proper form before you perform the exercise. So far I've tried 3 of their HIIT workouts which have been quite the calorie burn for me in a short period of time which I love! I don't burn a lot of calories doing the ChaLean Extreme weight lifting dvds so I always feel like I need to burn a few extra calories afterwards in order to eat without going over my calories on My Fitness Pal.
Monday morning when we had the weather delay for work - I pulled out an old Tae Bo dvd. This one was from Billy Blanks "Amped" series from a few years ago which came in a set of about 10 dvds with a 3lb weighted bar.
It felt good to do something different to change up my workout routine. It was actually FUN to do this workout. I'm going to dust off and try to incorporate some of my old dvds into my workouts. I have tons of dvds and some of them are still unopened so it will be fun to explore new-to-me workout routines that I have right here at home. I did go ahead and take all my old Leslie Sansone Walk Away the Pounds dvds off of my dvd rack. Right now I feel that I'm too strong, too advanced for the walk-at-home-type-of-workout she offers. I'm not going to toss them though - who knows - maybe I'll have to go back to them for some reason. They are a great way to get back in to fitness so I'm not hating on them at all. They helped me get into fitness in the first place after I first had the twins and couldn't get to the gym.
Last week I finished reading Bob Harper's The Skinny Rules book.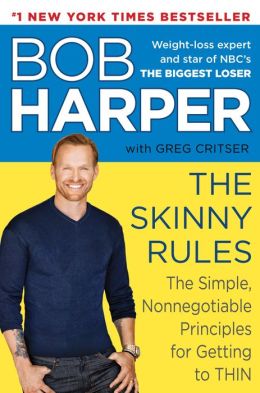 It was just ok to me - not too much new or radical information. He had a lot of recipes at the end based on a single serving so I may experiment with some of them when hubby gets deployed.
Now I'm reading Weight Loss Boss by the CEO of Weight Watchers.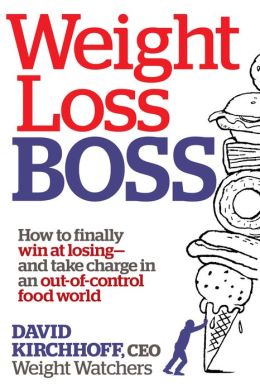 It is an interesting read - hearing from someone who struggled with their weight over a period of time is always interesting to me. I don't have a lot of weight to lose - but I do feel like I've been struggling with these last 10lbs or so of "baby weight" forever - okay... 12 years :-)